5 Summer Patio Decorating Ideas
Five of the easiest summer patio decorating ideas that will refresh your empty patio and make working and dining as comfortable as indoors. Let's decorate your summer limited patio together.

1. Put On A Rug
If your outdoor floor is not so new, you can choose carpet to cover it, because it is easier to choose the style you want to match your patio, the thing to remember is to choose waterproof and easy to clean instead of Furry, because it will encounter rainy weather outdoors, to reduce maintenance costs, this is what you need to consider. Before winter comes, you can do a wash and dry on the porch without affecting the appearance.

2. Comfortable Outdoor Furniture
Choosing expensive outdoor furniture may make you're outdoor look good, but if you have a limited budget, I would recommend you to choose vicllax outdoor furniture, it is different from the monotonous and ordinary products on the platform, fashionable and quality guaranteed, the price is only 1/3 of other brand products, in general, it is a very good choice for families looking for affordable products and good looks. Most of our outdoor furniture is made of metal and is heavy enough to withstand high winds.


3. Add Fabric
The best fabric for outdoor furniture must be polypropylene, which is a by-product of refined petroleum. It is very durable and stain-resistant, and it does not fade easily in sunlight. Because of these advantages, it will also be relatively expensive. Of course, you can also choose indoor pillows as cushions. It is important to note that once the rain is soaked, it is prone to yellowing and mildew. Remember to store it indoors after use.

4.Lighting
Not only do we want to be able to be outdoors during the day, but to extend our time on the patio, we need to install the right lighting. The first requirement for lighting is that there will be no restrictions on patio activities at night. Generally, outdoor sconces will be installed. Your outdoor sconces and sconces should be positioned so that the center point is about 66 to 72 inches above the floor. Choose 50- 200 lumens to maximize your patio lighting.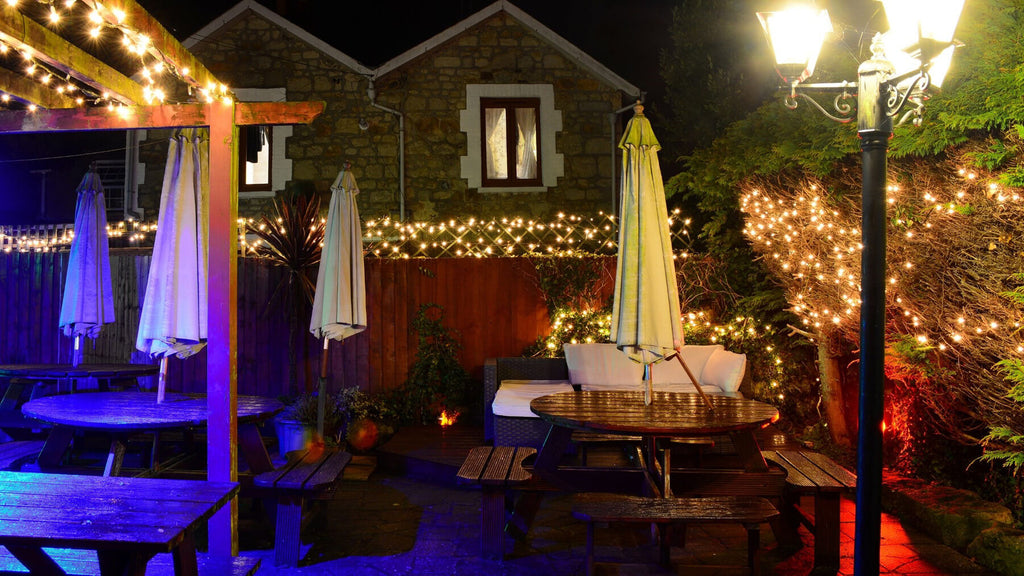 5.Flowers
Flowers and decorations are amazing things, they will make you feel good and more appetizing at the table, they are the way to create an atmosphere, usually white, pale pink roses with greenery look elegant and fresh. Hydrangea is also a very good choice, its color makes people look very comfortable, you can mix and match, it is an excellent decorative flower in summer.